Welcome to the Denpa Onna to Seishun Otoko Wiki
Welcome to Denpa Onna to Seishun Otoko Wiki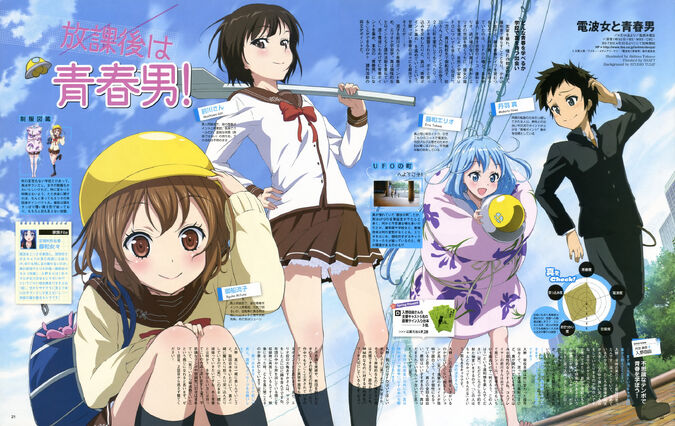 Anime • Manga • Light Novel • Characters • Recent Changes • New Photos • Help
Welcome to the Denpa Onna Wiki, a Wiki dedicated to the anime Denpa Onna to Seishun Otoko that anyone can edit. Feel free to contribute to our wiki.
We currently have 2,465 edits to 41 articles and 136 images on this wiki.
Featured Article
Erio Touwa (藤和エリオ, Touwa Erio) is the main heroine of Denpa Onna, she disappeared and was found half a year later floating in the ocean. After losing all her memories of the past half year, she started to claim that she was abducted by aliens, then further adds that she herself is an alien! She's Makoto's cousin and Meme's daughter...
Visit here to read more.
A Strange Moment for the Girl Bound to the Ground
Makoto goes on a day out with Ryūko, who explains her stance on mysteries. Makoto relays what Meme had told him to Erio, though she seems reluctant to respond. Later, Meme tells Makoto not to get involved with Erio. Though he still wants to help her, Makoto decides to dispel her belief in aliens as the first step. He attempts this by taking her on his bike and riding off a hill to disprove her ability to fly.
Visit here to read more...